Microsoft has recently announced that it is rebranding Azure Active Directory (Azure AD) to Microsoft Entra ID. Most users are already familiar with Azure AD capabilities which include a range of security features, including single sign-on, multifactor authentication, and conditional access. These capabilities will remain the same and only the standalone license names will be modified with the rebrand not the pricing. Keep reading to find out more about this announcement.
Say hello to Entra ID
As we mentioned earlier Entra ID is the new name for Azure Active Directory. The name switch to Entra ID is already in effect now, but it won't be completed for all customers until the end of the year according to Microsoft's partner blog announcement. 
The changeover to Entra ID is just a name switch and "there will be no changes to product capabilities, price, or licensing," noted Irina Nechaeva, General Manager for identity and network access at Microsoft, as well as "no changes to any capabilities,". IT pros using Entra Azure Active Directory do not have to take any action.
What is Microsoft Entra?
Microsoft Entra is the identity and access product family that was introduced in May 2022 to support Microsoft's expanded vision for secure access. The product family has grown from three products at launch—Azure AD, Permissions Management, and Verified ID—to now eight, including ID Governance, Workload ID, and External ID as well as the newly announced Entra Internet Access and Entra Private Access.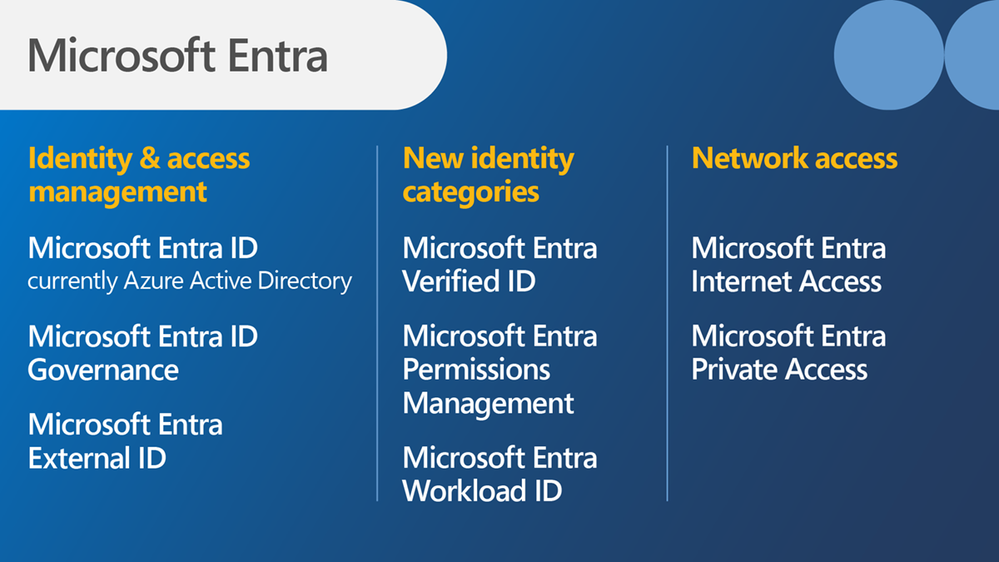 Why the rebrand?
With the expansion of Microsoft Entra into the Security Service Edge (SSE) category and the launch of two new products—Microsoft Entra Internet Access and Microsoft Entra Private Access—Microsoft is unifying their identity and network access portfolio under the Microsoft Entra brand. This change will simplify secure access experiences for Microsoft customers and make it easier to lead with multi-cloud and multiplatform identity security value.
What do customers do next?
This rename won't change capabilities, APIs, PowerShell Cmdlet, sign-in URLs, service level agreements, Microsoft authentication libraries, developer experiences, or tooling. All deployments, configurations, and integrations will continue to work without interruption. Users should note all existing pricing and licensing plans will remain the same and will be easy to map between Azure AD and Microsoft Entra ID plans.
If you'd like to find out more about Microsoft Entra or this recent announcement, contact our team who can help.