Power BI, Microsoft's market leading business intelligence and data visualization platform is always evolving. Microsoft understand that organisations need to track key performance indicators (KPIs) and provide a snapshot for senior leaders. Having a real-time scorecard where you can easily see how your department or organisation is performing, is a great asset that saves you time and keeps you on top of things quickly.
This is where the new scorecards and metrics feature for Power BI comes in.
What is a Power BI metric?
Metrics in Power BI let customers curate their metrics and track them against key business objectives, in a single pane. This feature enhances data culture by promoting accountability, alignment, and visibility for teams and initiatives within organisations. You simply select the data you want to set a metric for and can then assign a target or metric for this data and create a new visual to highlight and track your performance against this metric.
Metrics can be set as manual targets or can be selected from your data. Metrics can be set manually to different statuses, or you can define rules to automatically assess the status about the time left and current trends in the data.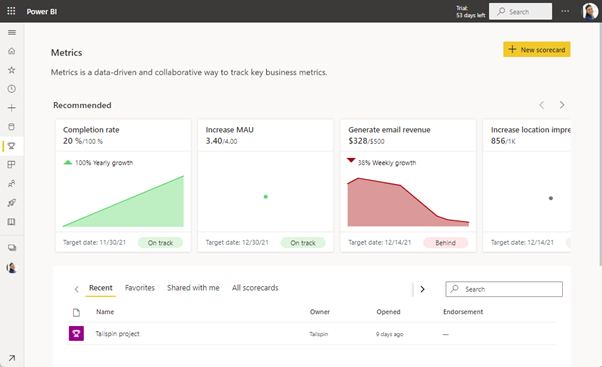 What is a Power BI Scorecard?
A scorecard is a collection of metrics into a visual snapshot of how you are performing. This could be for marketing or sales for example and include all KPIs for those areas.
Scorecards allow you to set metrics/goals against some data and create a visual for this metric, called a scorecard. The scorecard can be easily created and then added to any report or dashboard you like.
Scorecards provide a clear overview at the top, highlighting the overall status of each of the metrics within the scorecard.
You can group Metrics using Metrics and sub metrics, helping you show relationships within your scorecard.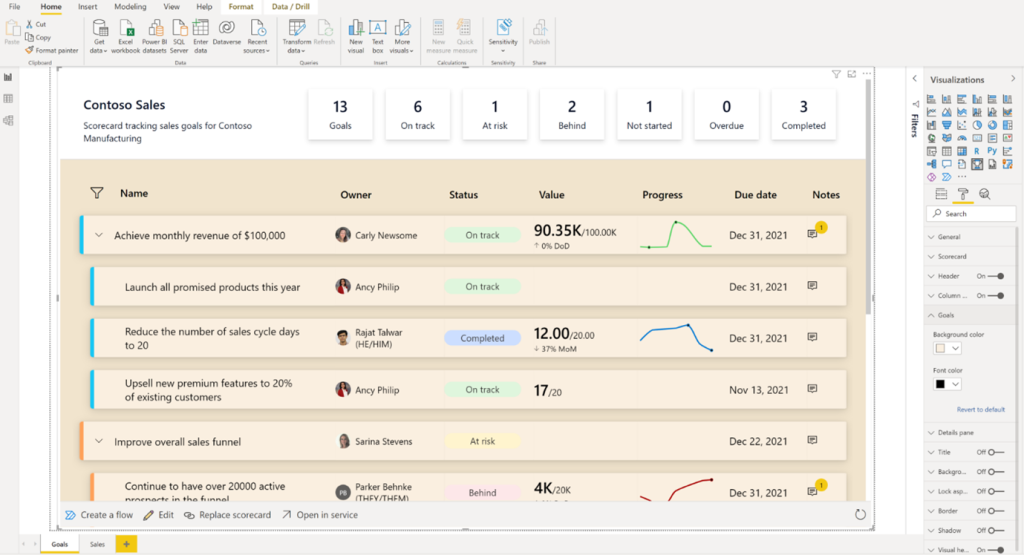 The ability to create company or departmental scorecards that can be used as a visual health check for how that particular area is performing or the company is performing in general, is a really useful feature that senior leaders should be crying out for.
This is another great example of Microsoft continuing to develop Power BI and provide useful new features for users, all included in your existing licensing.
To discover more about Power BI, download our guide or visit our Power BI services.