SharePoint Online is a powerful collaboration tool that enables teams to work together efficiently and effectively. It allows users to store their work data in the cloud, move information across environments, and receive updates automatically. With this functionality, information is available anywhere across the organisation, data is kept secure and organised for employees to perform at their best no matter their location, device or work style.  The benefits of SharePoint Online come from the wide range of impressive features on the platform. Microsoft continues to improve features regularly, here are some of the key features of the new version of SharePoint Online designed to make your working life so much easier.

SharePoint Online key features – Metadata/search
One of the major plus points for SharePoint Online is its search ability. Like Google, SharePoint indexes everything you have on your site. Essentially SharePoint tags every document and file with all the information contained in it plus tags including authors, dates etc. which are all searchable. The search is also individual to you, so will take into account your permissions and the people you collaborate with the most to bring up the most relevant options.  
Here, metadata is what enables the search and includes data attached to any file on SharePoint, whether it's an image, document, or spreadsheet. This type of search is a huge time saver and encourages higher productivity when searching for items rather than looking through folders etc. This is the new approach recommended by Microsoft.
Data security
Microsoft has always been big on security, and this is no different when it comes to data in SharePoint.  There are several security and compliance features available to ensure your data is protected. You have document retention policies which allow you to label and tag content appropriately, this can help provide guidance on how long you are supposed to have access to certain types of documents. This also helps you manage document sprawl and meet your legal and regulatory requirements on holding information.  
Sensitivity labels allow you to tag documents according to how sensitive they are and can help reduce data leakage. For example, you can control which staff members can see certain documents or add limits on documents that should not be sent internally or out with the organisation.

SharePoint lists
Similar to a spreadsheet, table or a simple database, a SharePoint list is a collection of data displayed in rows and columns. How these differ from a spreadsheet is that they enable users to collaborate with the information in a much easier way.  
You also get a host of security features, you can't copy the list, you can control who can read or edit each field, column or row. Every user also gets the ability to change the view, drill down to key information without affecting other users. For example, issue tracking, announcements or results of a form.  
A good way to think about SharePoint lists is instead of storing documents you are storing an entry of data made up of multiple different columns. Often, users who maintain tracking spreadsheets can benefit from converting these to SharePoint Lists to take advantage of the functionality they offer. 
Note: SharePoint Lists and Microsoft Lists are now the same thing and there is a Microsoft Lists app which means you can access your lists via a mobile app. If you create a list in Microsoft Teams, Microsoft Teams will save the list in SharePoint.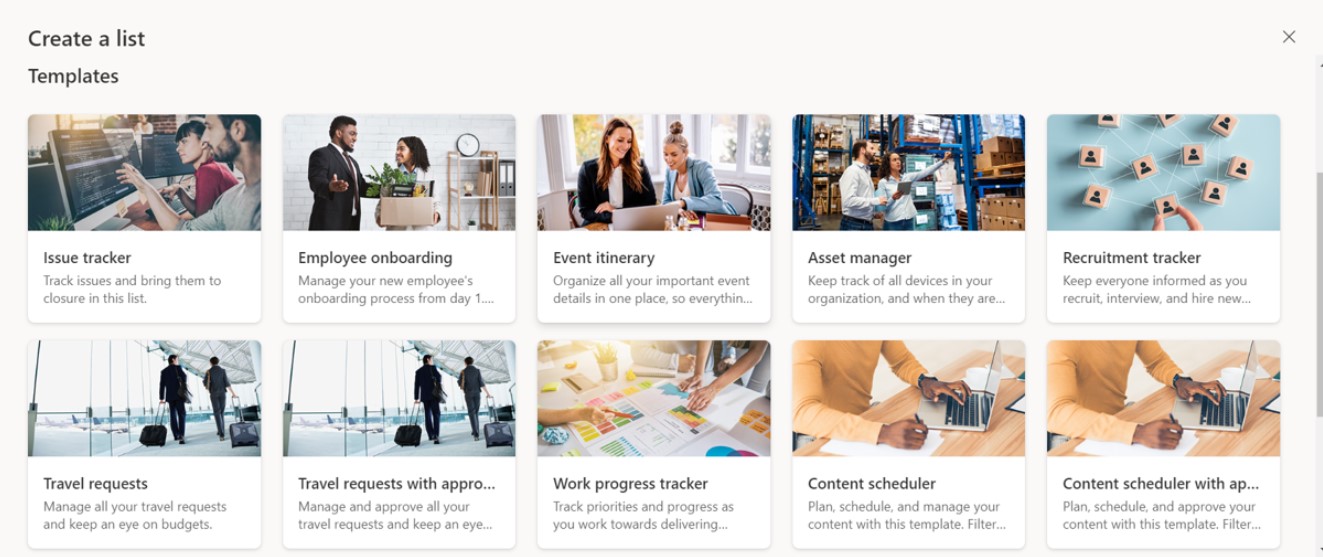 Workflows and automation
If your business has been using older versions of SharePoint, it's likely that you've been using SharePoint workflows to automate processes at some stage. These 'classic' workflows were considered the answer to everyone's problems, that is until Power Automate was introduced. SharePoint with Power Automate gives you a far superior tool to manage your workflows. Power Automate workflows integrate well with most of the Microsoft 365 apps required for your business operations unlike SharePoint workflows. They also offer a more fluid, seamless, and interconnected experience for SharePoint users.
Extract information from your documents with SharePoint Syntex or AI Builder
Let's start with Syntex. SharePoint Syntex is the AI-powered ability for Microsoft 365 to learn and understand your documents. It allows knowledge to be extracted from a file and then automated processes can be implemented around your content. A practical example of this could be invoicing. All you do is show Syntex a few example documents and what information you are looking for and going forward Syntex can analyse a document, identify its type and extract the relevant information from it. This can be combined with automated workflows to push that data or document to the relevant department.
With SharePoint Syntex, you can build a content understanding model, add extractors, and then automate content processing to ensure invoices are paid. You can build similar models to help you with anything from processing timesheets to managing employee contracts. 
AI Builder on the other hand is the same but works better with Power Platform. For example, it can be triggered via Power Automate flows / Power Apps and allows for simpler implementation with Power Platform generally. The main difference between the two solutions is that with AI Builder you must explicitly trigger a flow, whereas Syntex sits in background and performs its analysis.
Microsoft Viva and SharePoint
If you've been exploring a new intranet, chances are you'll have read about Microsoft Viva. Many articles online choose to focus on SharePoint vs Viva, pitting the two solutions against each other, when the truth is Viva doesn't replace SharePoint. Instead, it becomes more accessible via Microsoft Teams, and you can access more functionality. 
It's important to remember SharePoint is the building block of Microsoft Viva, especially Viva Connections. Viva Connections is all about ensuring your employees stay engaged with your company. Connections is personalised to your organisation and tailored to each person. Powered by SharePoint, it gives people a curated, company-branded experience on a custom feed of news, announcements and conversations. The personalised dashboard connects individuals to company tools and resources across the digital workplace, keeping everyone in the company engaged. 
SharePoint is used by many businesses as an intranet, and various elements must work together to make it engaging, accessible and user-friendly. SharePoint is the backbone for a company's intranet, allowing elements like Teams and Viva Connections to function as an interface for employees to engage and collaborate consistently, efficiently and productively.
Do you have any questions about any of the SharePoint Online key features in this article? As a SharePoint partner we bring a wide range of experience helping organisations unlock the benefit of SharePoint. From migrating organisations to SharePoint for the first time or helping to design and govern their SharePoint environment, Bridgeall are here to help. Request a free SharePoint briefing here or fill in our contact form and a member of our team will be in touch. We also have our SharePoint migration guide with more information, download below.