Cloud is now the go-to delivery mechanism for infrastructure, applications, software and services. Organisations must and are moving to the cloud and Bridgeall is taking them on the journey to the cloud, one step at a time.
Improved business resiliency

Reduce infrastructure costs and management

Improved service levels and experiences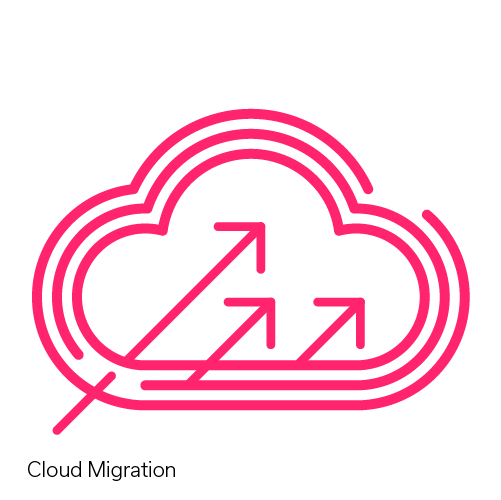 Moving on-premise assets to the cloud
Whether you're looking to move your on-premise assets or servers to the cloud, Bridgeall 's cloud migration services aim to seamlessly move your systems from to a cloud-based infrastructure.  
At every step of the way, we'll work with you closely to define the strategy and prepare your systems, to manage the migration. As part of our service we will recommend the best cloud solution for your assets, considering the wide range of IaaS and PaaS services available with full consideration of costs and ongoing management.
Moving Apps to the cloud
Many legacy on-premise applications would benefit from being moved to the cloud. This will make them easier to access and can both stablise the application and reduce the ongoing maintenance. 
One approach is to lift and shift your apps to the cloud. It means moving an application and its associated data to a cloud platform—without redesigning the app, simply replacing the on-premise server with a cloud virtual machine. 
The lift-and-shift approach opens paths to IT modernisation by moving to an open and more extensible architecture in the cloud.  Benefit from a range of cloud features including performance management and infrastructure auto-scaling. 
If you are looking to re-architecting your applications to better optimise them for the cloud this is also something Bridgeall can help with, simply visit our application modernisation services here. 
Moving from an alternative cloud provider to Azure
Is your organisation using multiple cloud platforms like Amazon Web Services (AWS), Google or other third parties? By consolidating to Microsoft Azure, you can greatly improve security and reduce costs.  A single cloud strategy reduces the ongoing management costs, the skillsets required to maintain these assets and allows a simplification of your IT infrastructure.  
Benefits of consolidating to Azure include: 
Opportunity to reduce costs, Azure offers some of the most price competitive Virtual Machines on the market.

 

Azure has the broadest range of services of any cloud provider

 

Integration with the wider Microsoft technology stack is a huge reason to choose Azure.
Cloud Migration services
Bridgeall is a Microsoft Solutions Partner for Azure Infrastructure, this enables us to demonstrate the ability to help customers migrate key infrastructure workloads to Azure.
We help organisations understand the potential benefits of moving to the cloud, develop a plan for moving and then carry out the cloud migration in partnership with the business users.
We apply our wide range of experience across the entire Microsoft suite including Microsoft Azure.
Our Cloud services
Cloud migration assessment
Cloud migrations
Cloud billing and cost review
Managed IT support
Azure security
Hybrid networks
Cloud Migration Briefing
Discover the full range of options and benefits of migrating to the cloud. Our cloud migration briefing is a free 2 hour briefing with one of our Microsoft certified Azure cloud consultants.
Cloud to Azure
We support you across all aspects of your cloud journey to ensure you leverage Azure to its full potential. Whatever your cloud ambitions, our Azure experts understand your objectives and build effective solutions for your business.
On-premise to Azure
Thinking of migrating from on-premise to Azure? Migration to Azure provides several advantages to all organisations. The most important and noticeable benefits are cost-effectiveness, security and operational agility.