Microsoft's Power Platform consisting of Power BI, Power Apps, Power Automate and Virtual Agents, is an intuitive set of tools that enable individuals with no experience of coding and programming to build apps and flows. The Power Platform is so easy to use, that anyone can start to generate reports, build apps, automate processes and even build chatbots.
As a business, it's important you understand the capabilities of those building with the Power Platform, while regulating the power they have. There's sensitive information out there, and to build a foundation for success, we suggest you implement a governance structure. This will ensure no boundaries are crossed and all tools are used in compliance with your organisations values. We explain some best practices when formulating a Power Platform governance strategy. 
Getting started with Power Platform governance
When starting their governance journey, organisations will typically adopt the Power Platform similar to the model shown below.

A citizen developer

 

(

a user creating new business applications for consumption by others

)

, 

starts

 building

 with no support

.

 

These users become champions and begin to support each other and new

users

 to create applications

.

 

IT are asked questions regarding the applications and offer basic support

.

 

The 

Centre of Excellence

 (

CoE

)

 model 

is eventually adopted.

 
While this approach works, it can create problems which later require governance. A better approach would be to start with the governance model.  
If adopted at the beginning of the process, the Power Platform CoE model can be a powerful way for an organisation to align around business goals rather than individual department metrics.  
What is

 a 

Pow

er Platform 

Centre of Excellence (

CoE

)?
A Microsoft Power Platform Centre of Excellence (CoE), is a team, or governance program that is responsible for nurturing the growth of the platform in their organisation, while applying the right administrative boundaries and governance.
When designing a Power Platform Centre of Excellence, it's important to capture the governance principles that are important to your organisation and create a reference framework to base all decisions on. 
The Power Platform Centre of Excellence should be responsible for managing a range of things including: 
Application audit process

 

Managing application ownership

 

Provide best practice and training

 

Manage the connectors and data available to users
The 

CoE

 

starter kit
While this can seem like a minefield you don't have to start from scratch. Consider downloading the Power Platform Centre of Excellence (CoE) Starter Kit. A collection of free templated best practices, designed with administration and governance in mind. 
Providing an overview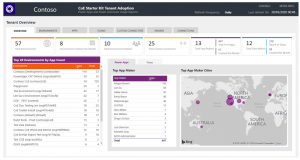 Included in the kit is a set of dashboards and reports that provide oversight. Allowing you to see what apps are in use, what apps are orphaned, who is creating apps and what environments the apps are created in.
Improving Power Platform solution quality 
While the CoE can take some time there are simple solutions that you can begin with. The Power Platform environment offers a solution checker and an app checker as part of its built-in development environment.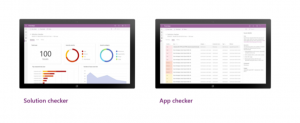 Solution checker – For rich static analysis of Power Apps solutions that improve quality by flagging specific performance and stability risks. 
App checker – To find and resolve errors as well as performance issues faster in apps. 
Making use of these will ensure that the quality of the apps is kept high and in line with best practice and errors. Plus, performance issues are spotted earlier and can be resolved. 
For more information about the Microsoft Power Platform and how to ensure good data governance among Power Platform users, talk to one of our Power Platform specialists. You can also learn more about the Power Platform with our complete guide below.