If you're a SharePoint user, you will be aware how challenging it can be to create a SharePoint site to suit your needs. But that is about to change with a new solution from Microsoft. 
Microsoft is introducing scenario-based site templates in SharePoint online. This new SharePoint release will help you expand what's possible with content, pages, and web parts while helping you quickly get started building your own site. Each template will contain pre-populated content and web parts that are fully customisable to meet the needs of your organisation.
How will this affect my organisation?
With these new templates, the user will have the ability to build a new site or more importantly, apply a template to an existing site. All you need to do is select the template, deploy it, and make sure everything appears as expected and you are done. You can then review pre-populated content and customise the site to address your needs.

How to apply a template
To apply a template to an existing site: Users can choose to browse site templates and can apply a template to an existing site at any time by accessing the template gallery from Site Settings and then Apply a site template. 
To apply a template to a new site: If a site owner is visiting their new site for the first time, they may see a message asking if they want to use a template that will take them to the template gallery.
Choose a desired template: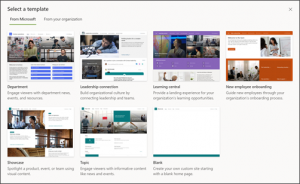 Preview and apply selected template: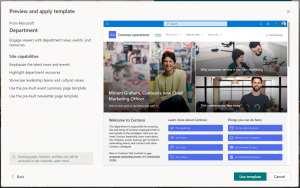 Which templates are available?
You'll be able to select your template from the list below and you'll receive step-by-step guidance on how to customise your site to align with your business objectives and organisational branding. 
Communication site templates: 
Department – Engage and connect viewers with departmental news and resources.

 

Leadership connection – Build community by connecting leadership and team members.

 

Learning central – Showcase learning and training opportunities.

 

New employee onboarding – Streamline and refine new hire onboarding process.

 

Showcase – Spotlight a product, event, or team using visual content.

 

Topic – Engage viewers with informative content like news and announcements.

 

Blank – Create your own custom site starting with a blank home page.




 
Team site templates: 
Event planning – Coordinate and plan event details with your team.

 

Project management – Create a collaboration space for your project team.

 

Training and courses – Prepare course participants for learning opportunities.

 

Training and development team – Plan opportunities to help others learn and grow.

 

Team collaboration – Manage projects, share content, and stay connected with your team.

 

If you're looking to improve or further customise your SharePoint site, you can review the SharePoint Next Steps panel for further guidance.
Next steps
Site templates will be available from mid-May and will prove incredibly useful when setting up or updating existing sites. To get started, share this guide with end users which explains how to customise and apply SharePoint site templates.
To find out more about SharePoint or if you have any further questions about how SharePoint templates could benefit your organisation, contact our team or download our SharePoint guide below.