Microsoft Viva is an employee experience platform that brings together communications, knowledge, learning, resources, and insights. Powered by Microsoft 365 and experienced primarily through Microsoft Teams, Viva fosters a culture where people and teams are empowered to be their best from anywhere. In this article we give you a brief overview of Microsoft Viva Topics and what to expect from the solution.
Introduction to Viva Topics 
Geared at making teamwork better, Microsoft Viva is split into four modules: Connections, Insights, Learning, and Topics. Topics automatically organises content and expertise across your organisation, making it easy for people to find information and put knowledge to work.
What

is

Viva Topics?
Empower your staff with knowledge and expertise, Viva Topics uses AI to provide relevant information on different subjects without the need for searching or switching between apps.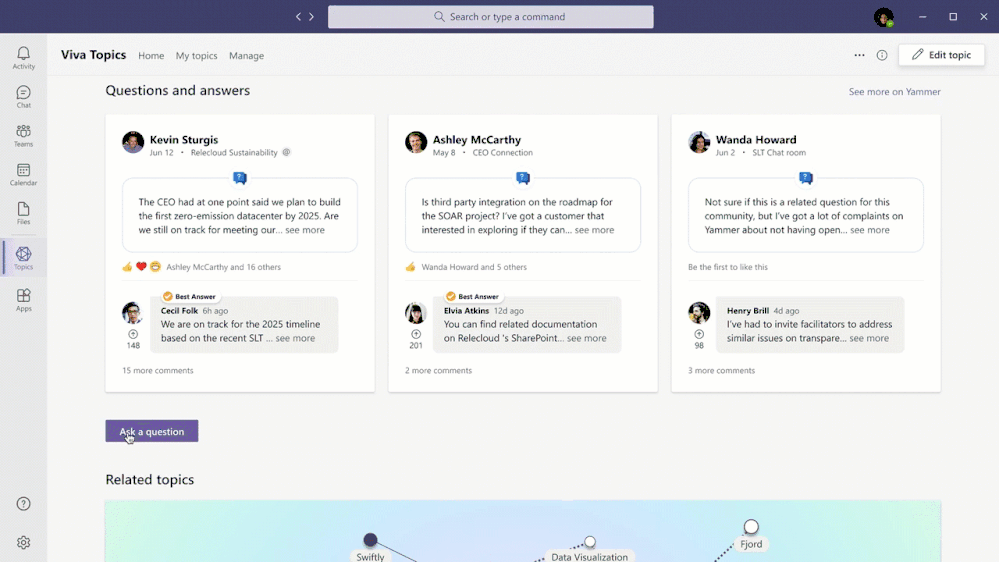 When Viva identifies a topic within a M365 app such as Teams, it automatically collects and curates' content from across your systems into a Topics Page. Here, staff will be able to easily access information such as: 
The definition of the topic

 

Recommended and suggested people to contact.

 

Key documents relevant to the topic

 

Related sites and teams

 

Related topics

 
This information can be edited and updated. Viva Topics is a great way to connect with individuals and knowledge experts in their organisation, improving productivity and collaboration across an organisation's teams. 
Who

is

Viva

Topics

for?
Managers/leaders – Reach everyone in your organisation, anywhere. Bolster a strong connection with employees, transform your company culture and make it inclusive, and empower your people to succeed. 
Viva

Topics

pricing
£3 per user, per month. Microsoft gives a 30-day trial for up to 25 users. 
Viva

Topics notable dates 
Viva Topics is generally available now. 
If you want to learn more about Microsoft Viva and the modules, you can download our complete guide below which explains more about the Viva and how it can benefit your business. You can also speak to a member of our team who can help.