Data is at the heart of everything we do, and to make informed business decisions it's important that we make the most of it. To thrive and grow, businesses need to capture, analyse, predict, present and report data, all with a high level of agility. This then allows organisations to make better, data-driven decisions. This is where Dataverse can help. So, what is Microsoft Dataverse? In this article we explain more about Dataverse and why you should use it.
What is Microsoft Dataverse?
When it comes to business insight, building out the data infrastructure needed can be both time consuming and expensive. The data you have originates from multiple devices and systems and this growing number of sources often consists of multiple data technologies that store different types of data, expose different APIs, and use a mixture of security models. The developers needed to create these technologies can be expensive and hard to find, but this is where Dataverse comes in.  
Dataverse addresses these concerns with an easy to use, secure and globally available SaaS data service. Dataverse empowers organisations to work with any type of data, app and use the data within it to gain insights and drive business action. As part of Microsoft Power Platform, Dataverse requires no or little code to be written, so it can easily be used by everyone from knowledge workers to professional developers.
Knowing that it is built on Azure, organisations choosing Dataverse can be confident that it is globally available, compliant, scalable, and secure.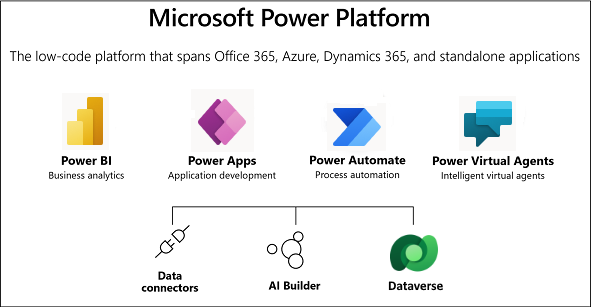 How Microsoft Dataverse works
Dataverse lets you securely store and manage data that's used by business applications. Data within Dataverse is stored within a set of tables. A table is a set of rows (formerly referred to as records) and columns (formerly referred to as fields/attributes). Each column in the table is designed to store a certain type of data, for example, name, age, salary, and so on.  
Dataverse includes a base set of standard tables that cover typical scenarios, but you can also create custom tables specific to your organisation and populate them with data by using Power Query. App makers can then use Power Apps to build rich applications that use this data.
What kind of data can you use?
Dataverse is designed to work with any type of data and incorporates all the major categories of data technologies that your organisation needs—relational, non-relational, file, image, search and data lake. 
It includes a set of visual designers to create, edit and interact with data. This makes it easy to quickly define the tables, relationships, business rules, forms and workflows that represent your business.
Is it secure?
Dataverse uses Azure Active Directory identity and access management mechanisms to help ensure that only authorised users can access the environment, data and reports. It uses role-based security to group together a collection of privileges. These security roles can be associated directly with users, or they can be associated with Dataverse teams and business units. 
Individual rows can also be shared on a one-by-one basis with another user. As row-level control of access isn't adequate for some business scenarios, Dataverse has a column-level security feature to allow more granular control of security at the column level. 
It also includes two security models that can be used for hierarchies: the manager hierarchy and the position hierarchy. With the manager hierarchy, a manager must be within the same business unit as the report, or in the parent business unit of the report's business unit, to have access to the report's data. The position hierarchy allows data access across business units.
Why use Dataverse?
Standard and custom tables within Dataverse provide a secure and cloud-based storage option for your data. Tables let you create a business-focused definition of your organisation's data for use within apps. If you're not sure whether tables are your best option, consider these benefits: 
Easy to manage – Both the metadata and data are stored in the cloud. So, you can have peace of mind when it comes to the details of how they're stored. 
Easy to secure – Data is securely stored so that users can see it only if you grant them access. Role-based security allows you to control access to tables for different users within your organisation. 
Access your Dynamics 365 Data – Data from your Dynamics 365 applications is also stored within Dataverse, allowing you to quickly build apps that use your Dynamics 365 data and extend your apps with Power Apps. 
Rich metadata – Data types and relationships are used directly within Power Apps. 
Logic and validation – Define calculated columns, business rules, workflows, and business process flows to ensure data quality and drive business processes. 
Productivity tools – Tables are available within the add-ins for Microsoft Excel to increase productivity and ensure data accessibility. 
Interested in learning more about Dataverse and the Power Platform? Then visit our Power Platform services, download our Power Platform guide below or contact us today.