Digital technology continues to transform the nonprofit sector, but like all sectors it comes with its own set of challenges. Microsoft recognise that although charitable organisations may not have access to funding like other companies, they still face the same business issues including managing data, processes and devices. For this reason, Microsoft has a range of licences and discounts that allow registered charities or organisations to take advantage of free, or much lower prices for Microsoft products, including Office 365, Microsoft 365 and Dynamics 365. 
In this article we cover Dynamics 365. We will explain what to expect from the solution, how it can help charities and the Dynamics 365 nonprofit pricing/licensing available.
About Dynamics 365
Dynamics 365 is a collection of cloud-based business applications that can run parts of, or all your organisation. Whether your requirements include CRM, marketing, HR or finance functions, Dynamics 365 has an app for you. Dynamics 365 is embedded across the full Microsoft suite including Office 365 and Power Platform to provide class leading experiences and automation. These all allow you to manage your sales processes, run your customer service operations, deliver complex projects and many other scenarios that businesses regularly encounter.
How Dynamics 365 can help charities
There are multiple services available within Dynamics 365 that can help with your departments. Here are how some of them can help charities achieve their goals. 
Dynamics 365 Customer Service
Earn donors and volunteers for life with customer relationship management (CRM) capabilities. Take contextual information into every conversation and enable personalised interactions through a 360-degree view of donor and volunteer engagements. 
Customer Service is Microsoft's CRM solution that manages the service area of a business. The solution comes with personalised workflows for any action or process that your people need to follow. This can all be monitored and improved with easy reporting to show how people are performing against targets and areas that require improvement.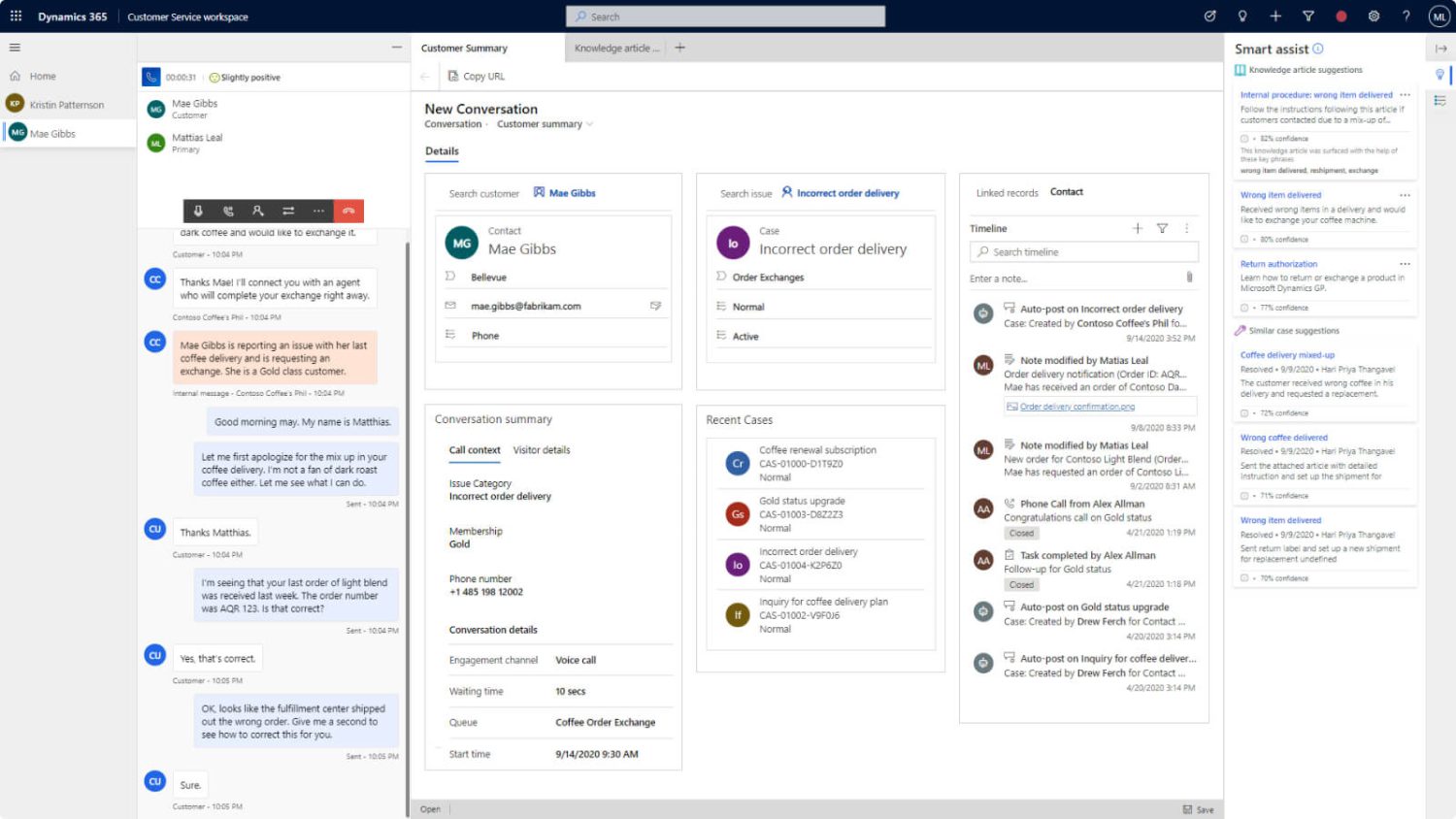 Dynamics 365 Sales
Dynamics 365 Sales accelerates sales by using customer, marketing, and sales data to identify ideal customer targets, recommend the next best actions, and collaborate with peers. 
Dynamics 365 Sales can help charities with:  
Helps to save time during the fundraising process as you can connect process data with Office 365 and LinkedIn data.

Dashboards can be easily personalised for different users to show them everything they need to know about individuals or certain groups at just a glance.

 

You can accelerate revenue with AI as the system can suggest recommendations to help you maximise donations.
Dynamics 365 Marketing
Dynamics 365 Marketing allows charities to manage all aspects of their marketing, promotion, events and fundraising activities all in one system with an easy handover to other departments. The solution enables easy personalisation of communications, which can be personalised to your audiences.  
For charities Dynamics 365 Marketing can help with:  
Generating more donors across multiple channels and nurture big donors with personalised customer journeys.

 

Allow companies to prioritise donors, automate the handover process and track progress with shared information and connected processes.

 

Use smart analytics tools to track marketing performance and improve ROI.
Eligibility criteria for nonprofit license
To qualify for discounted licenses, organisations must be a nonprofit or non-governmental organisation (NGO) with recognised legal status in their respective country. In addition to this criteria, eligible organisations must also operate on a not-for-profit basis and have a mission to benefit the local community. To see the full list of eligibility criteria, Microsoft has documented more information here.  
Once you are satisfied that your organisation meets the criteria you can apply for nonprofit status via the Microsoft registration page.
Dynamics 365 nonprofit
The pricing is based on a per user per month cost. Team members are limited to only view certain capabilities. For charities it is unlikely that you will need the manufacturing or service management capability of premium so we would recommend a mix or essential and team member licenses with your core finance team having full access using premium and your wider organisation having view only access as a team member. 
| | Standard pricing | Charity pricing | Discount |
| --- | --- | --- | --- |
| Team member | £6 | £2.40 | 60% |
| Essential | £52.79 | £21.10 | 60% |
| Premium | £75.40 | £30.20 | 60% |
Nonprofit grant
Microsoft Dynamics 365 Sales Enterprise enables full relationship management for all your constituents from donors and government agencies to volunteers and program participants.
Eligible nonprofits can get Dynamics 365 Sales Enterprise free for up to 5 seats and discounted pricing of £17.90 per uesr/month for additional users, which is 75% off the retail price.
To learn more about Dynamics 365 and Dynamics 365 nonprofit pricing, contact our team who can help.