As Microsoft continues to focus on incorporating AI tools into the Microsoft suite, we have a new product announcement from the team, Microsoft Loop. 
This new collaboration hub harnesses the Microsoft Office suite to offer a seamless way of managing projects and tasks. You may be thinking 'I'm sure I've heard of Loop before' and you would be right. While there was talk about Loop last year, there is new buzz surrounding the tool as it is now in public preview. We're here to keep you in the 'Loop', so continue reading to find out more.
What is Microsoft Loop?
Loop is a collaborative space where you can manage and stay on top of projects. It is ideal for things like task lists, meeting notes or brainstorming sessions. The thing that sets Loop apart from other similar tools is its shareable components that allow you to transform any page into a real-time block of content that can be pasted in Teams, Outlook, Word and more.  
Loop components are constantly updated and editable for whoever they're shared with. Imagine a table that you're working on with colleagues; you can drop that as a Loop component into a Teams message or Outlook email, and any edits to the table will be reflected wherever it's embedded or shared. 
Workspaces will support up to 50 people editing at once but typically it is designed for teams of two to 12 people working closely on a project. This is so the interface doesn't feel too overwhelming with lots of people editing at the same time.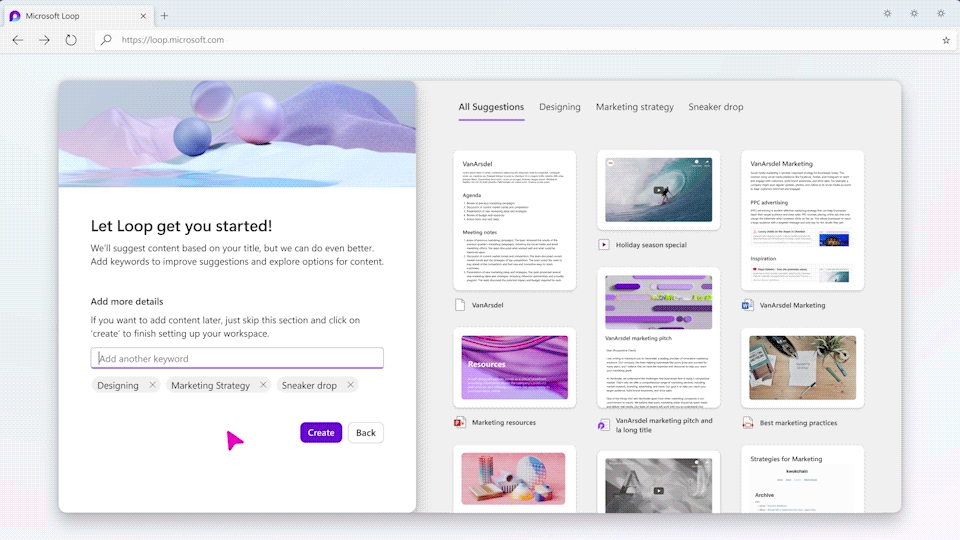 Microsoft Loop in mobile
While your phone isn't exactly the ideal place to edit /create documents, Microsoft is bringing Loop to mobile. The mobile Loop app is designed for capturing photos, ideas, and more. The idea is not to replicate the desktop experience with this feature, but to make it easier to complete light edits or take notes on mobile. 
How Loop works with Copilot
As we mentioned earlier in this article, Microsoft is really ramping up its efforts when it comes to AI tools. You may be familiar with the recent Copilot announcement, which is another AI tool designed for work. This will allow users to draft emails, catch up on missed meetings as well as write Word documents from scratch and more. You can see more about that announcement here. 
Microsoft is privately testing Copilot within Loop. Here you'll be able to use AI-powered suggestions to create a space to brainstorm with Microsoft adapting its Copilot to support several users where you and your co-workers can all ask the AI chatbot questions and manipulate the responses. As the responses will be on a live canvas, you can start editing them freely and then share them in Outlook and Teams.
Try Microsoft Loop
If you'd like to try Loop for yourself, the tool is now in public preview, allowing businesses and consumers to get access to an early version of the software. If you have a Microsoft Account or Azure Active Directory account, you can get access through the web app, and iOS and Android versions will also be available to businesses today and consumers soon. 
For any other questions about Loop or different tools within the Microsoft suite of products, contact our team who can help.