With data analysis projects getting bigger and cloud spend getting more and more expensive, Microsoft is combining its existing data warehousing, business intelligence, and data analytics products into a single offering, dubbed Microsoft Fabric. Billed as an 'end-to-end, unified analytics platform, the solution aims to bring together all the data and analytics tools organisations need. Analysts say that this new solution could help enterprises combine workloads while reducing IT integration overheads, complexity and costs. In this article we highlight the key points you need to know about this new announcement.
How Microsoft Fabric works
Essentially Fabric integrates technologies like Azure Data Factory, Azure Synapse Analytics, and Power BI into a single unified product, empowering data and business professionals to unlock the potential of their data and lay the foundation for the era of AI.  
The new platform centres around Microsoft's OneLake data lake but can also pull in data from Amazon S3 and (soon) Google Cloud Platform, and includes everything from integration tools, a Spark-based data engineering platform, a real-time analytics platform and, thanks to the newly improved Power BI, an easy-to-use visualisation and AI-based analytics tool. There is also a new no-code developer experience that allows users to monitor their data in real time and trigger actions and notifications based on it.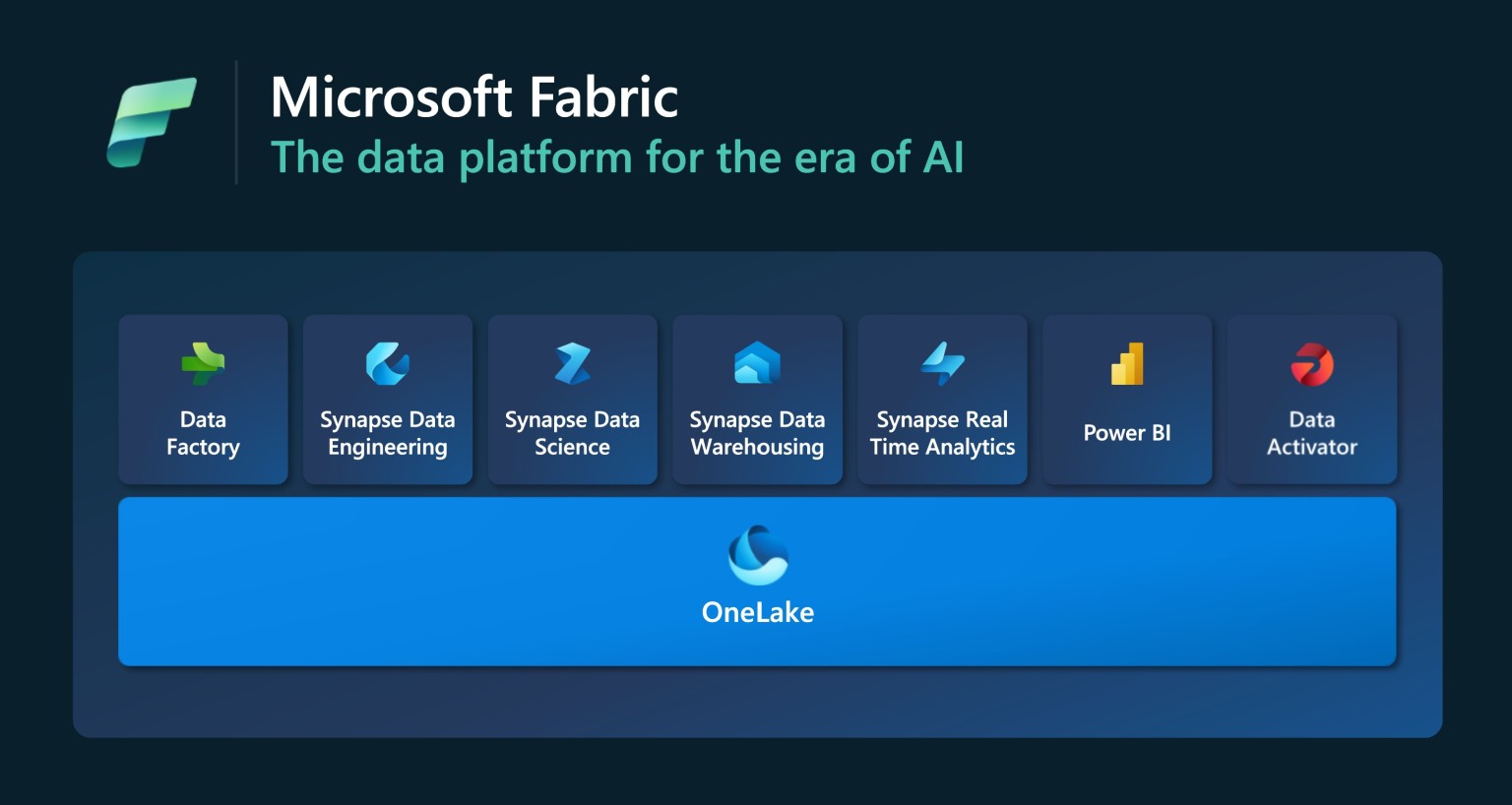 In the recent announcement, Microsoft detailed several components in Fabric, many of which are in preview form. Here are the core workloads: 
Data Factory (preview) – comes with more than 150 connectors to cloud and on-premises data sources, drag and drop experiences for data transformation, and the ability to orchestrate data pipelines.

Synapse Data Engineering (preview) – enables great authoring experiences for Spark, instant start with live pools, and the ability to collaborate.
Synapse Data Science (preview) – provides an end-to-end workflow for data scientists to build sophisticated AI models, collaborate easily, and train, deploy, and manage machine learning models.
Synapse Data Warehousing (preview) – provides a converged lake house and data warehouse experience with industry-leading SQL performance on open data formats.
Synapse Real-Time Analytics (preview) – allows developers to work with data streaming in from the Internet of Things (IoT) devices, telemetry, logs, and more, and analyse massive volumes of semi-structured data with high performance and low latency.
Power BI in Fabric provides industry-leading visualisation and AI-driven analytics that enable business analysts and business users to gain insights from data. The Power BI experience is also deeply integrated into Microsoft 365, providing relevant insights where business users already work.
Data Activator (coming soon) provides real-time detection and monitoring of data and can trigger notifications and actions when it finds specified patterns in data—all in a no-code experience.

 
You can start testing out these experiences with a free trial here.
OneLake the OneDrive for data
As mentioned above, Fabric is centered around OneLake, a SaaS, multi-cloud data lake that is built-in and automatically available to every Fabric tenant. All Fabric workloads are automatically wired into OneLake, just like all Microsoft 365 applications are wired into OneDrive. Data is organised in an intuitive data hub, and automatically indexed for discovery, sharing, governance, and compliance.   
OneLake serves developers, business analysts, and business users alike, helping eliminate chaotic data silos created by different developers provisioning and configuring their own isolated storage accounts. Instead, OneLake provides a single, unified storage system for all developers, where discovery and sharing of data are easy with policy and security settings enforced centrally.
Copilot in Fabric
This is Microsoft in 2023, so of course, a Copilot in Microsoft Fabric will be coming soon. Microsoft is adding its Azure OpenAI service to Fabric and will soon integrate GPT-powered Copilot into the analytics platform, the company said. This will aim to make it easier for users to build data pipelines, generate code, build machine learning models and much more.
Reducing costs with Fabric
Cost is of course a major driver for all businesses, and with Fabric, Microsoft has decided to simplify the pricing model, which focuses on the compute infrastructure and centers around a common Fabric compute unit. Customers can purchase a single pool of computing that powers all Fabric workloads. With this all-inclusive approach, customers can create solutions that leverage all workloads freely without any friction in their experience or commerce. The universal compute capacities significantly reduce costs, as any unused compute capacity in one workload can be utilised by any of the workloads.
How can I access Microsoft Fabric?
Currently Microsoft Fabric is in public preview, and anyone can try the service without even having to provide credit card information. Fabric will be enabled for all Power BI tenants on the 1st of July.
If you'd like any more information about Microsoft Fabric or any of the points in this article, contact our team.