It is widely agreed that the burden of excessive email and pointless meetings act as major productivity busters for most knowledge based workers.
How much time will you spend in meetings and answering emails in 2019?
MyAnalytics, now available to everyone using Office 365 and Microsoft 365 Enterprise and Business suites that include Exchange Online, can answer that question to a high degree of accuracy.
As shown in the images and video below, MyAnalytics presents a personal dashboard summarising how you spend your time at work. The data provides you with insight on how to work smarter by reducing unproductive meeting time, the time spent working after hours and answering excessive emails. It also uses artificial intelligence (AI) to help you stay on top of your to-do list by flagging commitments you've made in email.
New insights being added to the dashboard will provide a more complete picture of how you and your team are spending time at work – in Outlook emails, meetings, Skype for Business calls, Microsoft Teams calls and chats, as well as signals from documents you're working on saved in OneDrive and SharePoint.
With more employees experiencing burnout at work due to the increasing pace of work, a rise in collaborative working, chat, email, meetings, and technology blurring the lines between work and life, perhaps it is time to start using workplace analytics to improve both work-life balance and productivity at the same time; working smarter not longer.
MyAnalytics insights from Microsoft Teams and documents saved in OneDrive or SharePoint will begin rolling out to existing customers with MyAnalytics in January 2019, then to new suites over the next couple of months.
MyAnalytics features are now available for Office 365 and Microsoft 365 suites, Business Essentials, Business Premium E1, E3, and E5 plans.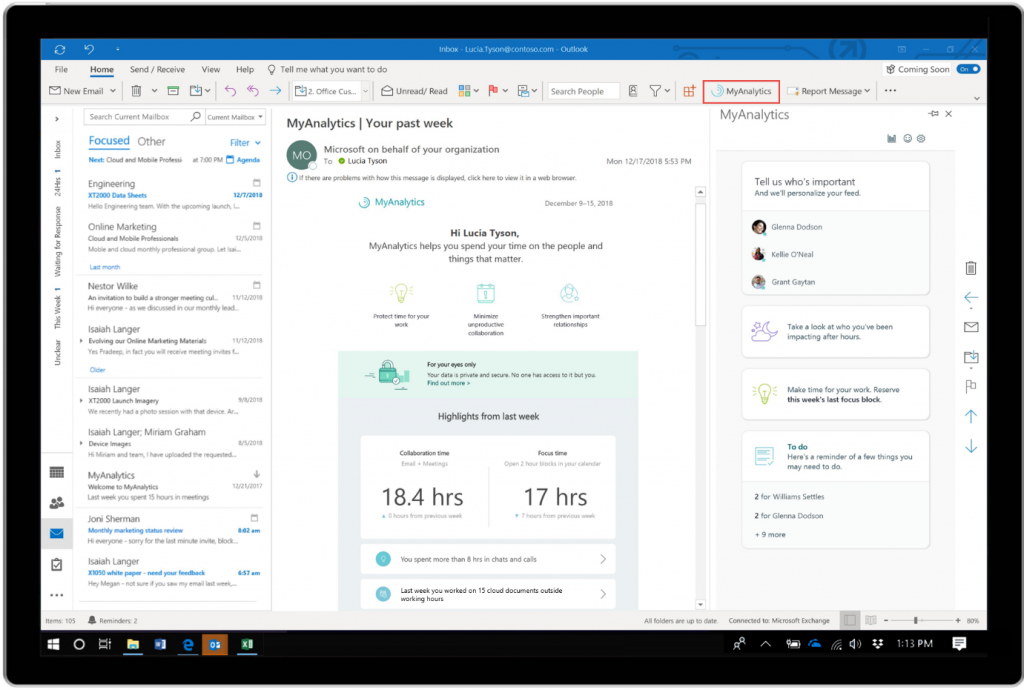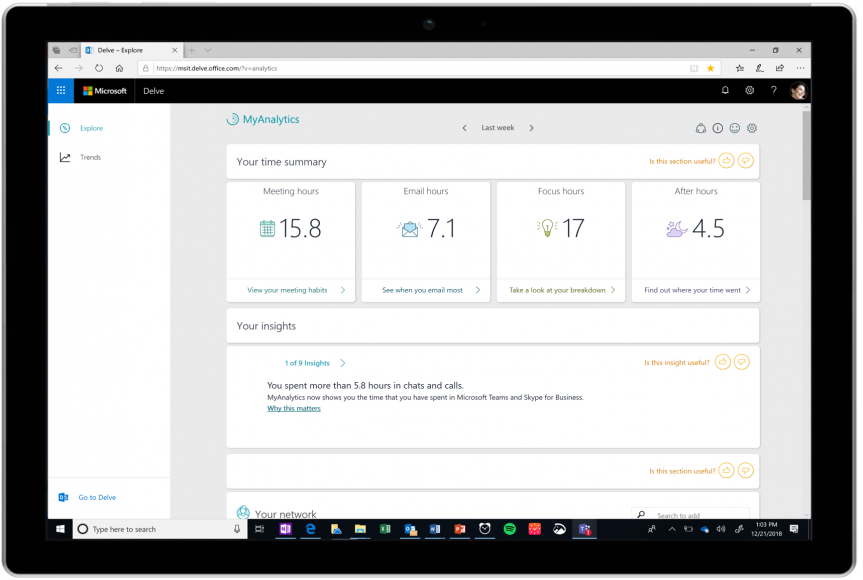 For more information on how the Microsoft 365 suite of tools can help your organisation work more efficiently and effectively, please see our series of blog posts on Digital Workplaces – work environments leveraging the full potential of technology for rethinking the way things are done, breaking free from the limits imposed by outdated systems and outdated management thinking.
Original article via Microsoft can be found at MyAnalytics, the fitness tracker for work, is now more broadly available.