For businesses these days, big data is hugely important. According to a study, 90% of business professionals and enterprise analysts said data and analytics were key to their organisation's digital transformation initiatives. Yet many businesses still struggle to use their data effectively in their decision-making process. 
With data powering everything we do these days, it's important to understand it in order to gain competitive advantage. But where to start, and what exactly can you do with data? With Power BI, you can easily connect to your data sources, visualise and discover what's important, and share the data with anyone in your organisation. Keep reading to find out how to bring your data to life with our picks of the best Power BI dashboard examples.
Power BI dashboard examples –

Customer analysis dashboard
First up in our list of the best Power BI dashboard examples, we have the customer analysis dashboard. For businesses looking for an increased focus on their customers, this dashboard is incredibly useful. 
Find out what you're doing well and identify gaps in your product or service with the net promoter score. You can also gauge which customers are at risk based on responses and reduce customer churn. With this information you can tailor your approach and keep on top of any issues your customers might be facing.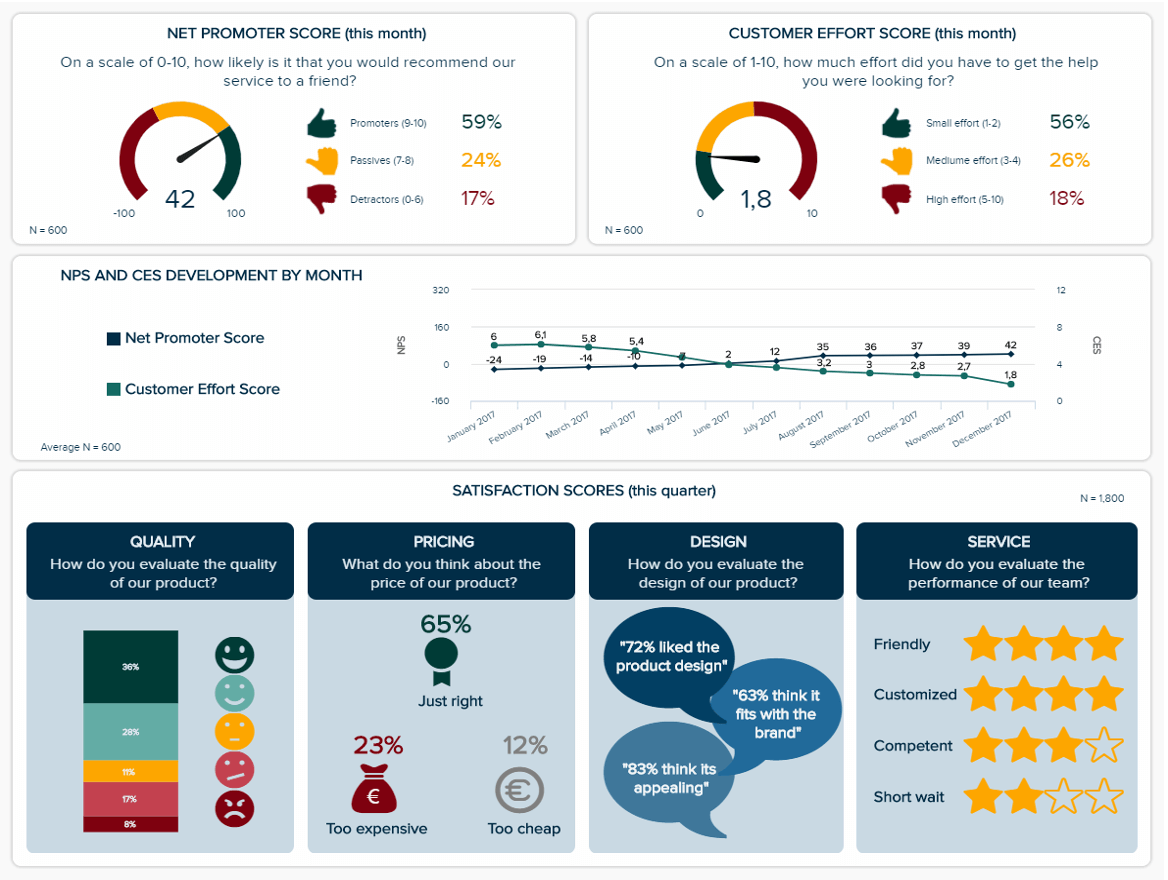 Best for: Customer success, Sales and Marketing teams. In almost every industry where managers and business leaders can use it to analyse customer satisfaction rates. 
Power BI dashboard examples – Sales & Marketing dashboard
The Sales and Marketing dashboard leverages several Power BI elements to build KPIs that can provide crucial and valuable insights to help sales managers. 
This Power BI dashboard example can provide a business vital insight into the areas it's selling per state, product, and region. This dashboard also gives you the ability to view comparisons of sales and profit against the previous years. This can help them put sales performance into perspective. Managers can view the cost components of the business that are driving profits or losses. Also, they can filter the dashboard based on year and business segments. 
Best for: Sales and Marketing managers across industries. 
HR analytics dashboard
Need a simpler way to analyse your full employees' life-cycle information? Want to know how to analyse your figures and share HR reports collaboratively?  Then this dashboard can help. Built on Microsoft Power BI the HR analytics dashboard aims to help you discover useful HR insights for strategic decision making.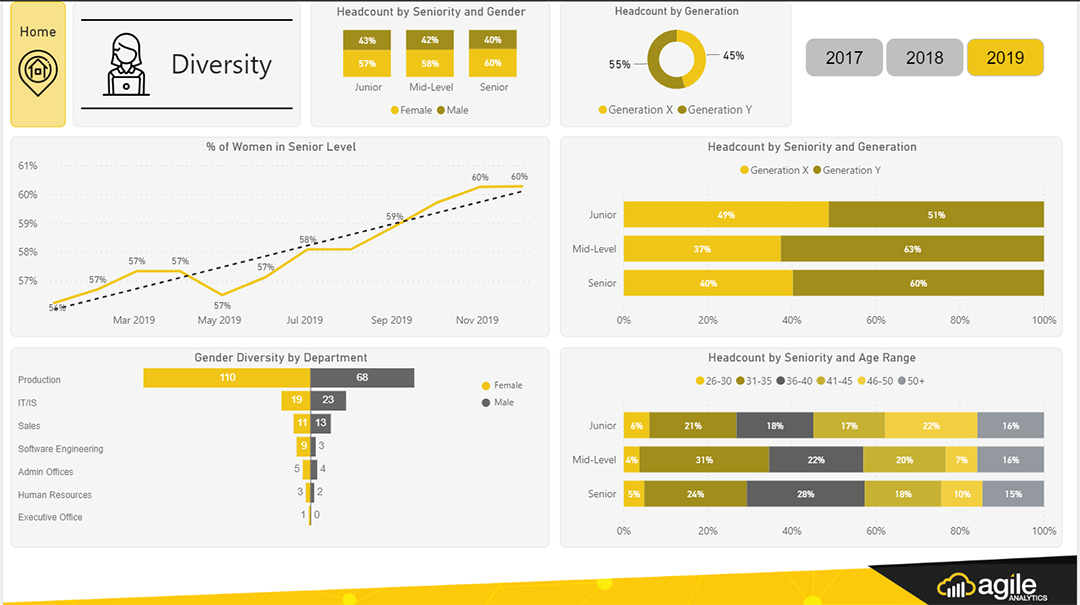 It can help HR professionals to make data-driven decisions to attract, manage, and retain employees, which improves ROI. Plus, it helps leaders make decisions to create better work environments and maximise employee productivity. 
Best for: HR professionals in all industries 
Social media monitoring & sentiment analysis dashboard
These days social media has the power to make or break a brand. Which is why you need to be ahead of the curve and know what people are saying about you.  With the social monitoring and media monitoring & sentiment analysis dashboard you can do just that.  
This monitoring and analytics tool can help your product quality, improve sales, and crisis control with the use of AI. The tool can also help your business organisations understand your audience's opinion about your product or service.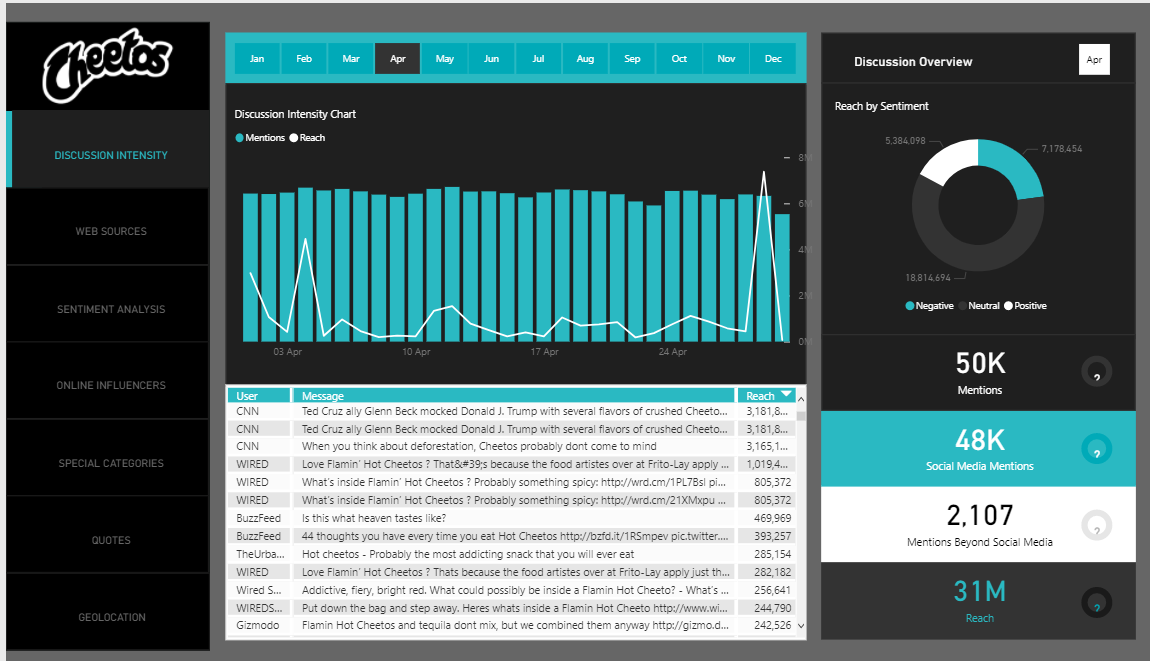 Its discussion intensity tab offers critical insight such as mentions on social media, total reach, and much more.  
Users can also view User's Mentions in Sentiment analysis by Day, Hour, and Total mentions along with the percentage of positive, negative, and neutral mentions. Businesses can utilise this Power BI dashboard example to view positive and negative mentions that are specifically based on geolocation, including regions and cities. 
Best for: Managers, marketers, and agencies. 
Stock & Inventory Management
Last on our list of best Power BI dashboard examples we have the Inventory Stock Analysis Dashboard. It provides a clear view of the company's inventory for the year. Manage your stock, reduce the capital required but also ensure you have enough to meet demand.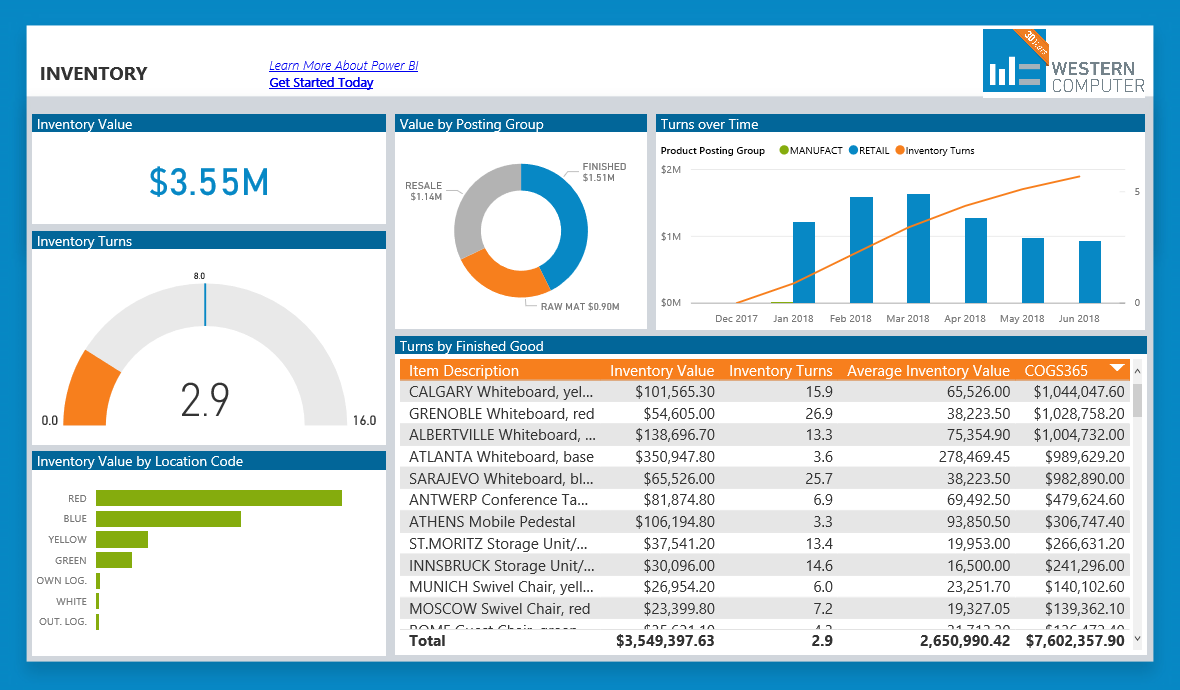 This dashboard broadly categorises into product categories by customer views and inventory, category selection, and quarters. 
This Power BI dashboard offers valuable insights on Inventory and divides the top five products into individual categories and segments. In terms of total sales and overall percentage. It offers users a stock prediction section where they can select product subcategories and average daily sales, days out of stock and replenishment days. 
Best for: Production Managers, Operational professionals, Supply chain managers