Previously known as Microsoft Flow, Power Automate allows you to create workflows that automate tasks between Microsoft services or other third-party applications. You can think of Power Automate as your personal assistant – making quick work of repetitive manual tasks.  
Businesses often ask us how they can use Power Automate and what types of tasks they can automate with this solution. So, we've compiled some of our picks of the best Power Automate flows you can use within your organisation.
Best Power Automate flows –

Holiday requests and 

approvals

process
No matter the size of the organsation, having a holiday approval system in place can be crucial to keeping things in order. As one of the most common workflows, holiday requests and approvals can modernise legacy ways or mundane processes and introduce technology effectively. 
With this template, Power Automate allows an automated request to be sent to a manager when an employee requests leave. Once this request has been approved the employee receives an email and your SharePoint list is created with fields for leave requests.  
It is useful to note that this workflow is fully processed by Power Automate, meaning that it can be managed and modified by super users within your organisation if needed.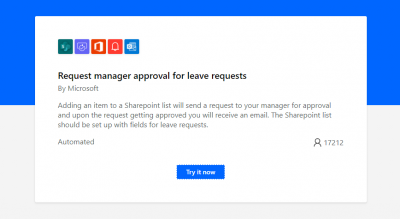 Trigger an alert 
when a Power BI metric is achieved or breached
Power BI alerts are important for many data-driven organisations. However, in order to take action and address changes in the business in a timely manner, users need to know when business conditions have changed. With this Power Automate template you can work with Power BI to track targets and milestones. 
Knowing when a payment is late, a new customer has been onboarded or a target has been reached are all examples of key triggers for processes and actions. 
With this flow you can configure a Power BI alert to trigger a post in Microsoft Teams, so you are notified as soon as a threshold or condition you've set in Power BI has been met.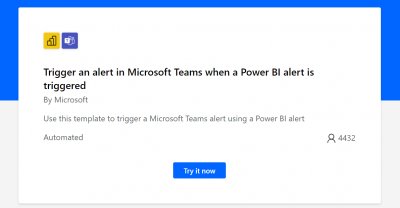 Get

notified in Teams when you receive an email in Office 365
You want to stay in Teams and keep working on that project you need to get over the line, but you're also waiting on those important daily alert emails you're responsible for actioning. So how can you manage these tasks? With Power Automate you can have a message posted to Teams when that important email arrives in Office 365 with this template. 
When an email arrives in Office 365, its content is checked, and emails that meet certain specified criteria such as containing a keyword in the subject line or email body or coming from a particular sender or with a particular priority, will trigger a notification to be posted in Microsoft Teams channel.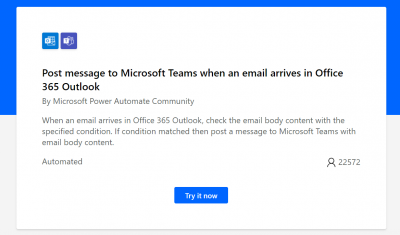 Get social media alerts
Those in a social media management role or similar would benefit best from this next solution. It might be that you must collate social media mentions or respond quickly to people online. This can be a very time-consuming and manual activity but with Power Automate you can send push notifications if a tweet with a certain keyword was retweeted more than 20 times. For example, this could be triggered by brand mentions, allowing you to monitor the impact of your brand on social media.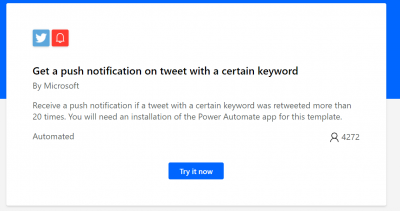 Get notified that a Microsoft Forms response has been submitted
If you are responsible for collecting feedback or responses from teams members, stakeholders or even customers, there is a flow that can help make your life easier. When a reply is submitted in Forms, instead of logging back in or heading back to your email to check responses, you can configure a flow to post a notification in a Microsoft Teams channel each time a particular Forms response is submitted.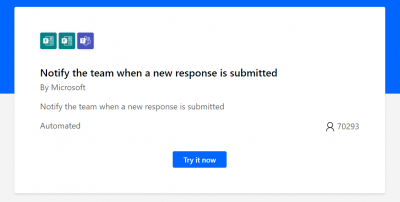 If you would like more information on Power Automate and how it can benefit your organisation, contact our team. You can also learn more about Power Automate in our comprehensive Power Platform guide.