This month in our Meet the Team series, we're talking to our Senior Project Manager, Sharon Buchanan. We find out more about Sharon and her role at Bridgeall.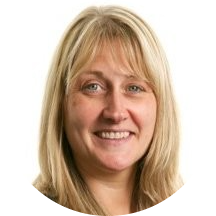 Tell us more about your role and what it involves?
I am the Senior Project Manager at Bridgeall and have overall responsibility for all client project delivery, ensuring project quality, budget and timelines are achieved.
How long have you been working at Bridgeall?
LinkedIn reminded me of my 10-year work anniversary this year, and I can't believe how fast the time has gone. I joined Bridgeall on the 7th January 2013, I had previously been working in the Public Sector and Utilities industries since 1994 in various roles predominantly within Project Management. The opportunity came up with Bridgeall to join the team to manage a very large project with a significant new client for the business and the rest is history.
What do you like most about your job?
The biggest highlight is annoying everyone on a Monday morning to get their timecards updated – just joking! I really enjoy working with our clients, new and old. Projects are always interesting and complex and it's great working with our development teams to deliver something that's outstanding for the client that really changes their day-to-day working life.
What does a typical day for you look like?
My days normally consist of project internal team meetings to review progress and timelines for multiple client projects.  I also have client catch-up meetings and I take the time to review project spend and delivery timescales as well as any outstanding actions for progression. 
Review service desk tickets and approve any change requests for live implementations. Ensuring PMO governance and meetings with Directors to review progress and processes.
What is your background?
I left school and joined the NHS and moved up all the grades (1990-2001). I then moved into the Private Sector IT (2001-2004), Senior Project Management in Utilities (2004-2011) and back to the NHS as Senior Manager (2011-2012) before joining Bridgeall in 2013 and I've been here ever since.  
When it comes to certifications, I have the Prince2 which is a process-based method for effective project management and MSP – Managing Successful Programmes certifications.
What is it like working at Bridgeall?
It's great working here, everyone gets on well and we work on a range of broad and interesting projects.
How have you found moving to working from home?
No problem at all as I manage my own workload so can do everything required using Microsoft Teams to speak to both clients and project staff. Bridgeall are really flexible when it comes to hybrid working, I am regularly over in Spain and work from there quite a lot of the time. It works very well, and the sunshine helps!
Favourite project you've worked on? 
There have been absolutely loads of brilliant projects and clients over the years so it's difficult to just pick one, however, the most exciting one for me would be a Water industry client.  They required a very complex solution to be delivered within 3 months and needed this at the end of December – you could say that Christmas was cancelled for us. The effort and skills that the development team put into this project was outstanding and the product has continued to grow from strength to strength. It was a fantastic achievement for the whole team. 
What do you enjoy doing when you're not working?
I enjoy going on lots of walks with our little dog, mostly to a dog friendly bar for food and drinks. I also like to sneak away for some sunshine (a lot), and I have 2 teenage Sons who also keep me on my toes so spending time with family and friends is great.
Advice for applicants
The team has continued to grow rapidly over the last few years, which is brilliant. Advice for new applicants would be to join Bridgeall and prepare to work with a great team on exciting new technologies with brilliant clients.