This month in our Meet the Team series, we're talking to Senior Cloud Consultant, Craig Speirs. When it comes to cloud solutions, Craig is your go-to guy! We find out more about Craig and his role at Bridgeall.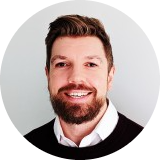 Tell us more about your role and what it involves?
I'm a Senior Cloud Consultant within the Managed IT and Support team at Bridgeall, which involves working with existing and prospective clients to assess their needs, and design and implement cloud-based solutions, primarily using the Microsoft Azure and 365 suite of products. This can also lead into deployments of Microsoft Teams Phone to provide a fully cloud based working environment. 
How long have you been working at Bridgeall?
I have been with Bridgeall for 8 months, after 12 years at another managed service provider. 
What do you like most about your job?
I love expanding my skills and knowledge on cloud technologies and working with Bridgeall accomplishes that, and it's also satisfying to see an initial proposal get taken to full project completion.  
What does a typical day for you look like?
A typical start to the day involves checking out the latest updates in cloud tech. This field is constantly evolving, especially since COVID, with more and more businesses adopting a cloud-first approach. I need to stay up-to-date on the latest trends so that I can provide the best possible advice. 
After this, I start working on my projects, and this could involve migrating a client's infrastructure to the cloud, implementing a new cloud-based application, or providing consulting services to help businesses adopt cloud  solutions. I often work closely with clients to understand their needs and ensure that their projects are completed on time and within budget. In addition to project work, I allocate time for training and learning new technologies.

What is your background?
I started my career in IT infrastructure support, gaining hands-on experience troubleshooting issues and providing 1st line technical assistance.
Over time, I worked my way up to an escalation engineering role, supporting more complex technical problems and then moved into managing the service desk as Service Desk Manager. This role involved a lot of people management in addition to ensuring client satisfaction. 
Most recently I served as Technical Director, overseeing all existing and new technical solutions that my previous employer would provide.  
Throughout my career progression, I've worked extensively with Microsoft cloud technologies like Azure, Office 365, and Teams. I also like to keep up to date with other major cloud platforms including AWS and Google Cloud. Furthering my skills, I obtained the Microsoft Certified: Azure Solutions Architect Expert certification and I am now working on the Microsoft Security exams. I have also managed to apply both my telephony experience and expertise with Microsoft solutions for an existing Bridgeall client, by successfully migrating them from a an existing VOIP solution, to one that fully integrates with Microsoft Teams. 
What is it like working at Bridgeall?
I really enjoy working at Bridgeall, and there is a great spirit of support here, no matter what department you're working with. Everyone is approachable, which made it really easy to fit in during my first few months at the company. 
How have you found moving to working from home?
My previous role was a hybrid role, so I have no issues working from home. Everyone is approachable on Microsoft Teams, but I do like working from the office from time to time for a change of scenery and to sample one of the many independent coffee shops in Glasgow.  
Favourite project you've worked on?
One of my first impactful projects was developing a proof of concept using the Azure Kubernetes Service (AKS). At that time, I had limited hands-on experience with containers, so this was a valuable opportunity to skill up on one of the emerging cloud technologies. The project was challenging because it involved collaborating with a major client and their third-party developers but I found the project highly rewarding as it expanded my knowledge of Kubernetes and how it can be used in deploying consistent cloud environments from dev to production.  
The proof of concept and accompanying documentation outlining the recommended solution were well-received and this can be used as a model for future opportunities. 
What do you enjoy doing when you're not working?
I am an active person who enjoys playing football and going to my local CrossFit box. I am also a big fan of video games, TV shows, and movies, and I always make sure to keep up with the latest releases, good and bad. 
Something on your bucket list?
I don't really have a bucket list as I like to live in the moment, but I would love to go to Japan and sample the unique culture there.