SharePoint is a key solution for organisations and forms a core part of Office 365 & Microsoft 365. SharePoint provides a wide range of functionality and should form part of any document management and collaboration approach.
As a leading Microsoft Gold partner with a proven track record with SharePoint, we help organisations share and manage content, harness organisational knowledge, build applications to empower teamwork and quickly find information allowing them to seamlessly collaborate.
Easily build modern intelligent intranets

Improve collaboration and document management

Automate processes and improve productivity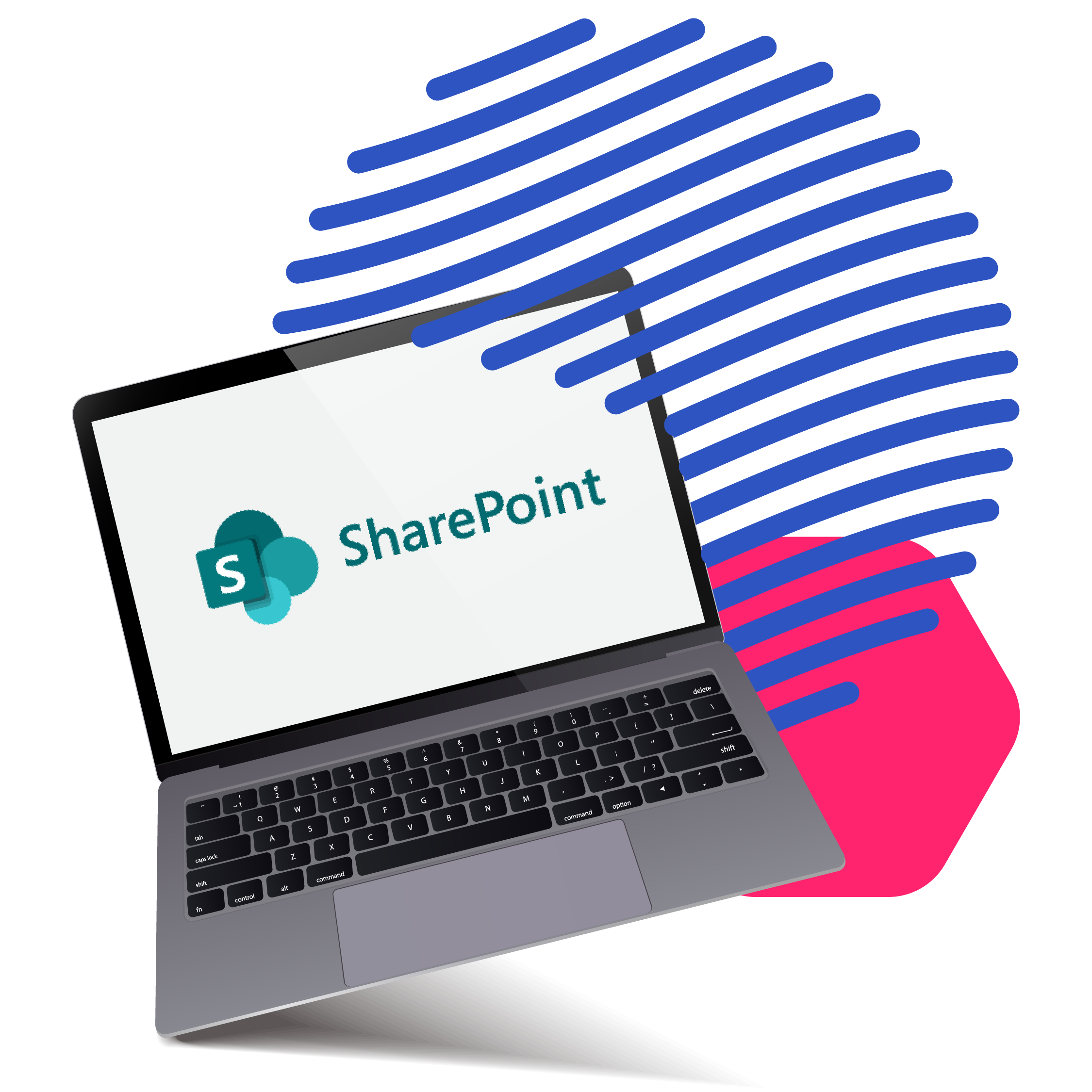 Microsoft SharePoint
Microsoft SharePoint is a web-based collaboration platform for hosting documents, teams, list databases and more. It has a wide range of use cases:
SharePoint offers an ideal place for communication between employees, with SharePoint sites for teams, projects, departments and companywide intranet sites.
SharePoint is paired with both OneDrive for Business and Microsoft Teams, providing full integration and collaboration across all three applications. Secure your data with SharePoint via a range of access and user management settings to keep your data in the right hands within your organisation.
Accelerate productivity by transforming processes—from simple tasks like notifications and approvals to complex operational workflows. With SharePoint lists and libraries, Power Automate, and Power Apps, you can create rich digital experiences with forms, workflows, and custom apps for every device.
Collaboration
SharePoint empowers teamwork with dynamic and productive team sites for every project team, department and division. Share files, data, news and resources. Customise your site to streamline your team's work. Collaborate effortlessly and securely with team members inside and outside your organisation, across PCs, Macs and mobile devices.
Document management
SharePoint provides document versioning, approval workflows, categorisation, search and control. Document control, relevance and disposition is managed by workflow tasks and granular security, taking away the pain of manual document control.
Intranet sites
Most companies will have an intranet site where they can share relevant information company-wide. SharePoint is the ideal technology to build an intranet. Using the wide range of options, it is easy to build an intranet that inspires and supports your employees.
Build cohesion and inform your employees throughout your intranet. Drive organisational efficiency by sharing common resources and applications on home sites and portals. Tell your story with beautiful communication sites and stay in the know with personalised, targeted news on the web and the SharePoint mobile apps.

Backup Office 365 SharePoint, email, and files to any location with Veeam
Enable fast and simple restores of SharePoint objects with deep visibility into SharePoint backups to recover anything you need in minutes with Veeam. 
Restore anything in minutes: Achieve short RTOs for your most common restore requests by recovering individual SharePoint items and permissions.

 

Browse your SharePoint database: Save time and storage by opening SharePoint directly from a backup without the need to extract or import any data.

 

Leverage full-text search: Take advantage of full-text search capabilities, including the exact phrase, starts with, conditional items, and more.

 

Export recovered items: Export of recovered SharePoint items and lists can be created in XML for easy import into another SharePoint Server or farm.

 
SharePoint services
Bridgeall is a leading Microsoft Gold partner that specialises in SharePoint. Our Microsoft Gold in Cloud productivity highlights the strength and breadth of our SharePoint experience. We are also 1 of just 17 global preferred partners for Microsoft Content Services.
As a SharePoint partner we bring a wide range of experience helping organisations unlock the benefit of SharePoint. From migrating organisations to SharePoint for the first time or helping to design and govern their SharePoint environment, Bridgeall are here to help.
SharePoint briefing
Get started with a SharePoint briefing with one of our Microsoft certified Consultants. Our Consultants will discuss your requirements and share how Bridgeall and SharePoint could benefit your business.
SharePoint Consultancy
We provide advice to support you on your SharePoint journey. From SharePoint strategy, design and governance advice.
Most organisations have SharePoint but how many have a SharePoint that delivers value and supports their employees? We can help you design an approach to SharePoint that meets your requirements.
SharePoint Governance
We provide best practice advice and support on putting the correct guardrails in place to manage your SharePoint sites and Teams instances.
Our governance solutions can help you reign in large scale SharePoint and Teams deployments or ensure that new deployments do not get out of control.
SharePoint implementation and migration
Whether you are new to SharePoint, on an old on-premise version or simply want to upgrade your existing environment, Bridgeall can help.
We have a wealth of experience creating SharePoint environments for organisations, ensuring your teams and projects can easily access the shared documents and processes they need.
Are you on an old version of SharePoint and want to migrate to 365 and SharePoint Online? We have helped a number of organisations discover the benefit of SharePoint Online with our simple migration process. Whether you are on SharePoint 2010, SharePoint 2013 or SharePoint 2016 there is a clear upgrade path to SharePoint Online.
If you are new to SharePoint and predominately use shared drives, we have vast experience helping you migrate.
Power Platform and SharePoint
Take your SharePoint to the next level with the Microsoft Power Platform. Develop applications based on SharePoint for your employees using Power Apps and deliver process automation across your business with Power Automate.
SharePoint support
Once you are up and running with SharePoint, ensure you have a strategy and support partner that will continue to monitor the system and ensure it delivers desired outcomes. This partner should also help to optimise your SharePoint environment as your organisation needs evolve.
We tailor our SharePoint support packages to meet your needs and agree clear objectives to help you continue to drive improvement across your organisation.