Build

 bespoke applications 

fast

, 

with 

Power Apps
Part of the Microsoft Power Platform, Power Apps is an innovative app builder designed to make creating professional apps a seamless and straightforward process. 
Empower everyone in your organisation to build solutions

Streamline cross-team collaboration

Build solutions to work the way you want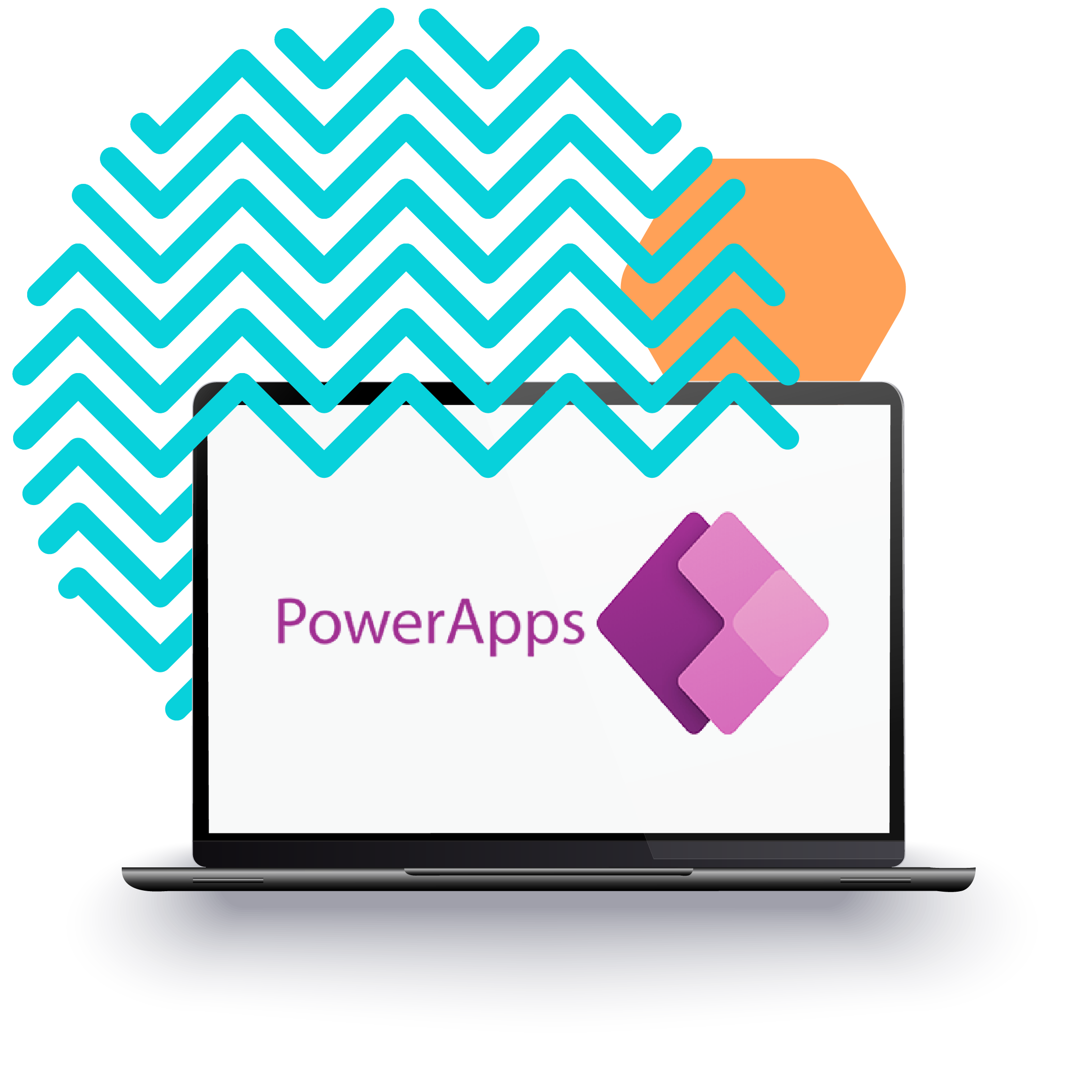 Why Power Apps?
Power Apps is a low-code solution for simple custom app development. It can empower business users to quickly create a tablet- or mobile-friendly app to solve a specific business problem.
Build and deploy useful apps – Don't know how to code? You don't have to. With Power Apps you can build the apps you want quickly and easily without having to write any code.
Connect to the systems you're already using – Power Apps can be easily connected to your data with hundreds of connectors for several popular cloud services and your on-premises data.
Publish apps instantly – When you're done creating your app, you can publish it within minutes to the web or any mobile operating system.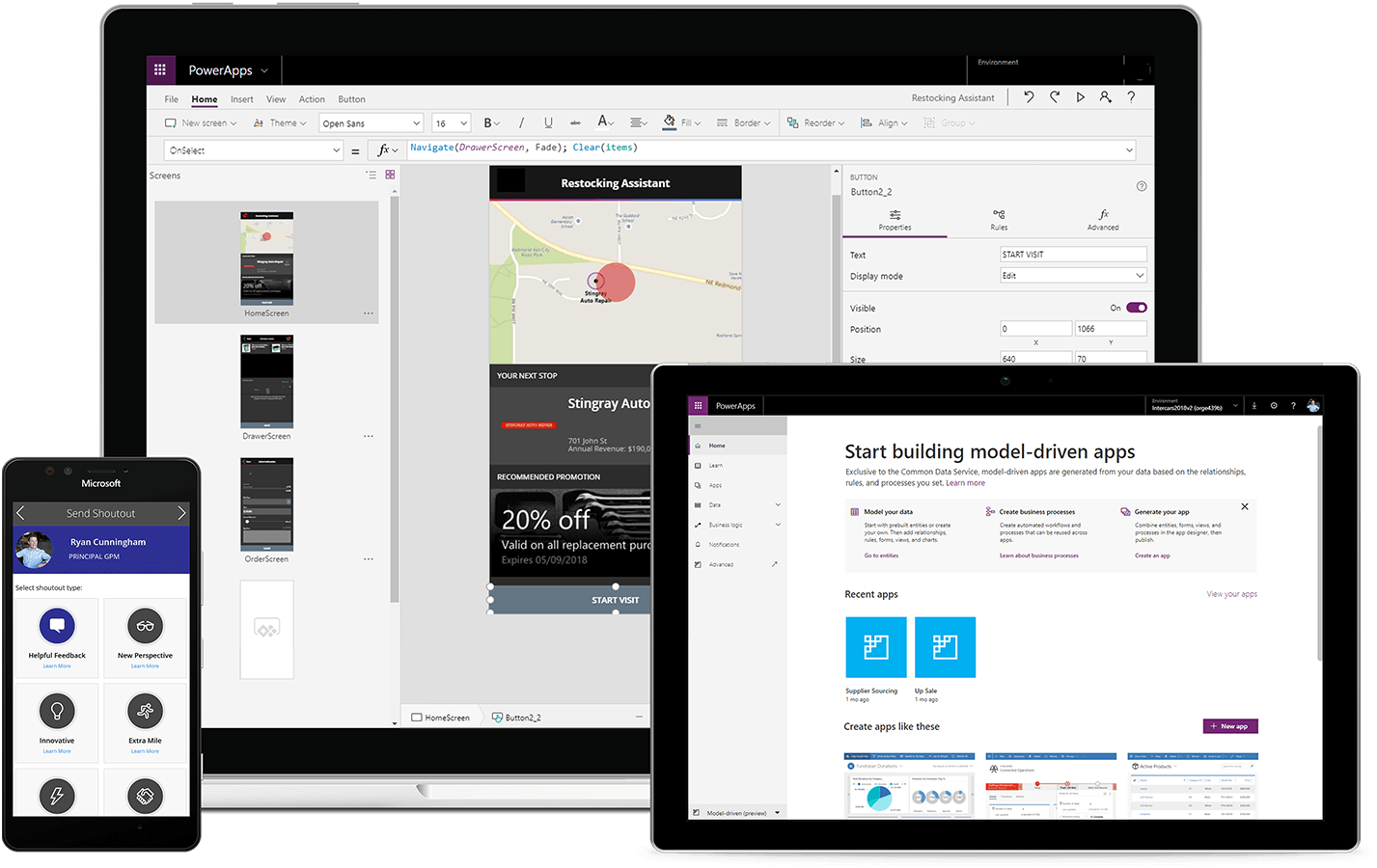 How to use Power Apps
Power Apps can be used in numerous ways by organisations looking to improve efficiency. Whether you're a beginner or a professional developer, Power Apps provides you the tools to build the right app from scratch or seamlessly extend app capabilities. 
Here are just some of the types of apps you can create and start to implement within your organisation.  
Employee onboarding – Onboarding in some organisations can be problematic. With Power Apps, users can easily integrate data with other Office applications. As well as this you can centralise company resources, employee contacts and any documentation to provide an easy onboarding experience. 
Expense approval – Expense approval can be a tedious process, ask any HR department. With Power Apps, users can create a mobile app for expense approval with no hassle. The employee can claim an expense by submitting a request with valid proof, and managers can accept or reject queries efficiently. 
Bespoke solutions – Create custom apps to work the way you want. From highly tailored applications to extending your current apps, the possibilities are endless.
Power Apps services
If you're looking to start your journey with Power Apps, we can help. Bridgeall is a leading Microsoft Gold Partner that provides a range of services to support your journey with Power Apps. We have a specialist team of Microsoft certified consultants and developers who will work with your organisation and align your business intelligence to your business objectives.  
We are Microsoft Gold Certified for application development and application integration and provide a full range of advice, implementation, licensing, training and support services for your business. 
Our Power Apps briefing is designed to provide you with a complete overview of the capability available. Whether you are exploring your options or want to get started, we will discuss your individual requirements to ensure the best solution to meet your needs.
Power Apps Quickstart
Harness the power of your organisation's data and create better experiences for your employees and customers with Power Apps and Power Automate.  
With our Quickstart package we help you to get up and running with Power Apps and Power Automate, develop a framework for success and give you the tools to start developing low code solutions. We'll work with you to foster an environment where your users are empowered to identify opportunities and develop solutions quickly and securely.
In our Art of the Possible workshop, we will consult with you to identify a use case for the Power Platform within your organisation.
Art of the Possible workshop
In our Art of the Possible workshop, we will consult with you to identify a use case for the Power Platform within your organisation.
We offer a range of training services to empower your users to make the most of Power Apps. 
Our Power Apps training will give you hands-on practical experience led by our expert Bridgeall consultants. The training is designed to accelerate your Power Apps experience and teach you how to put together relevant business apps without the need to code. 
Power Apps Solution Audit and Support
We offer organisations a full review audit and take over of support for your existing Power Apps. We ensure your solution is running smoothly and following best practise and then provide ongoing support to give you peace of mind.